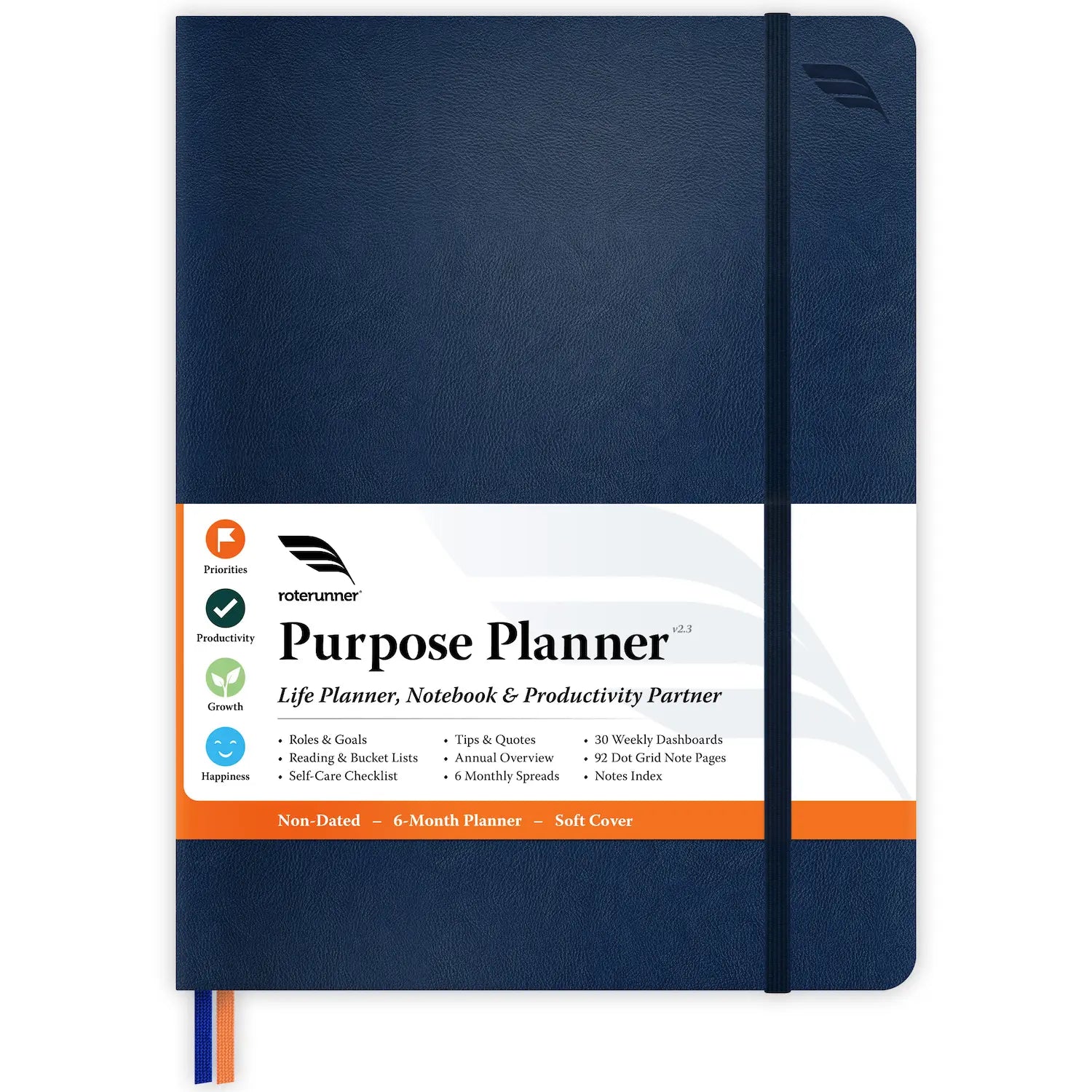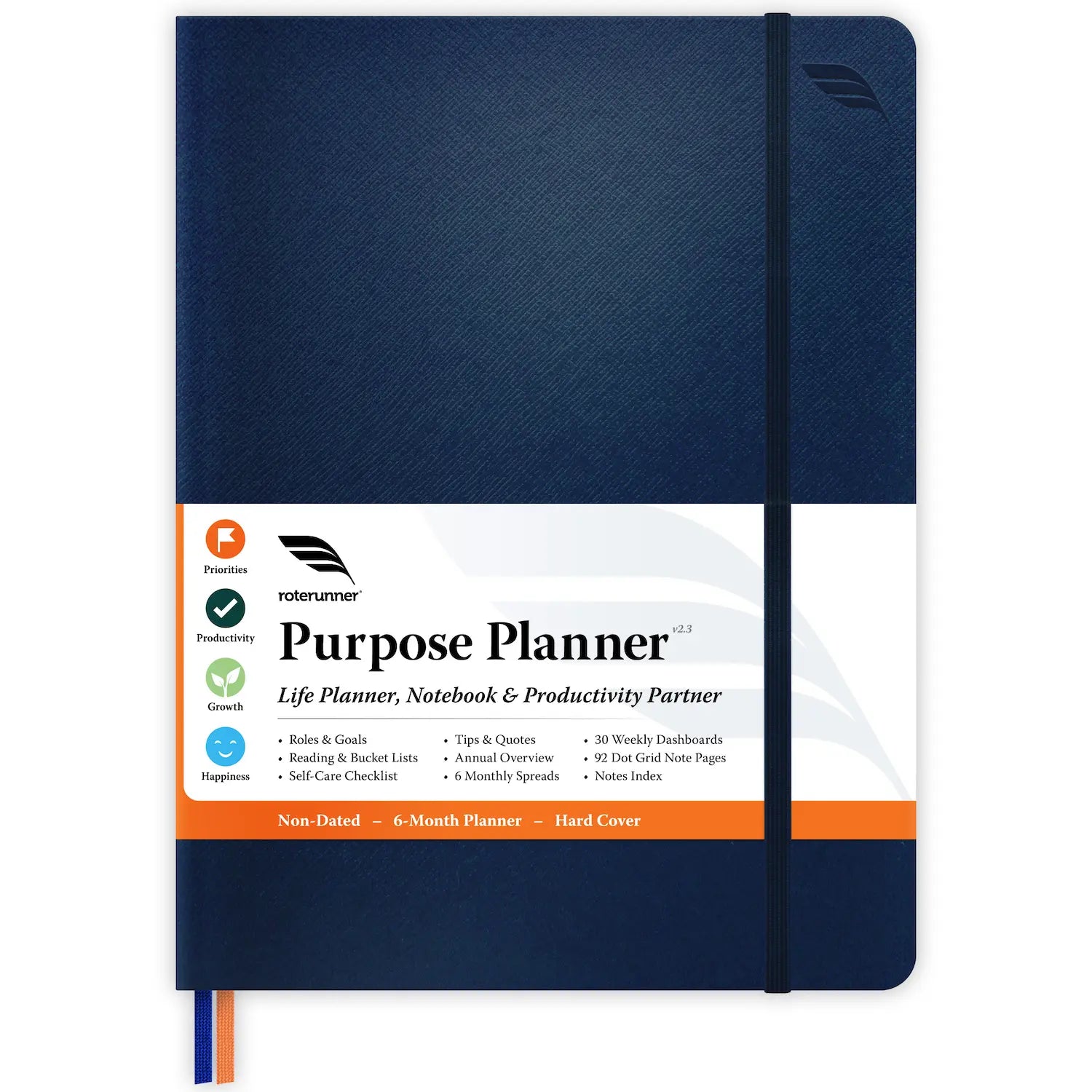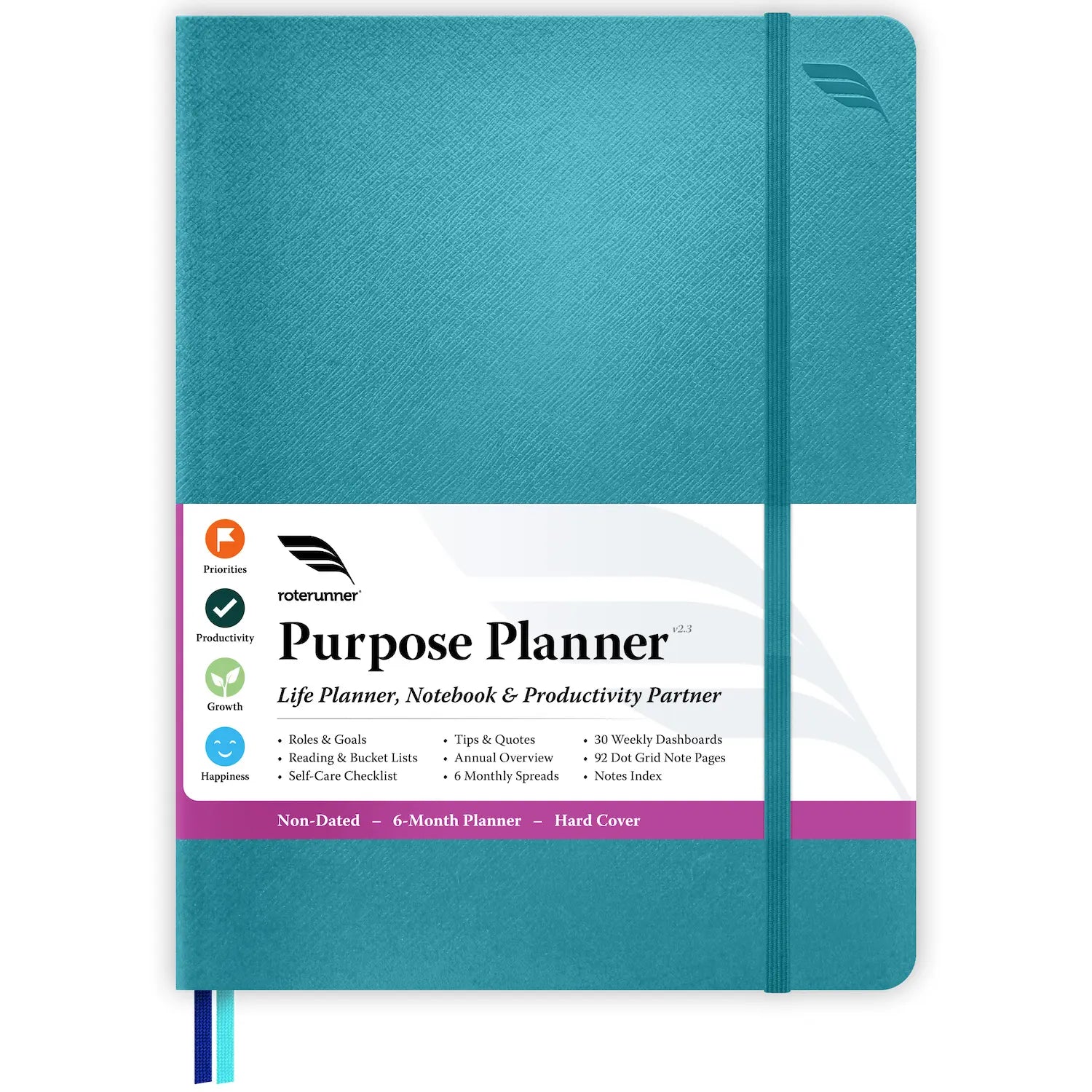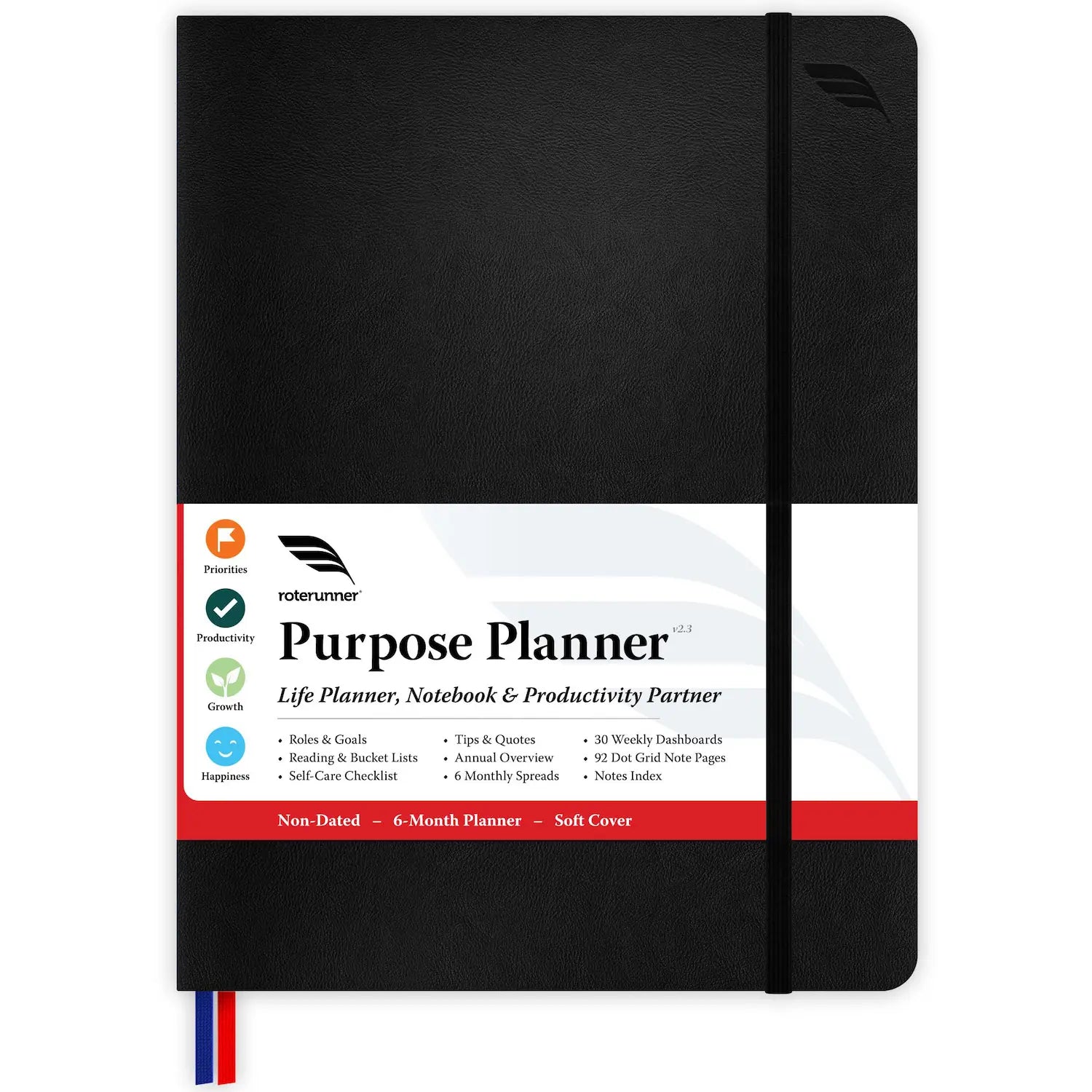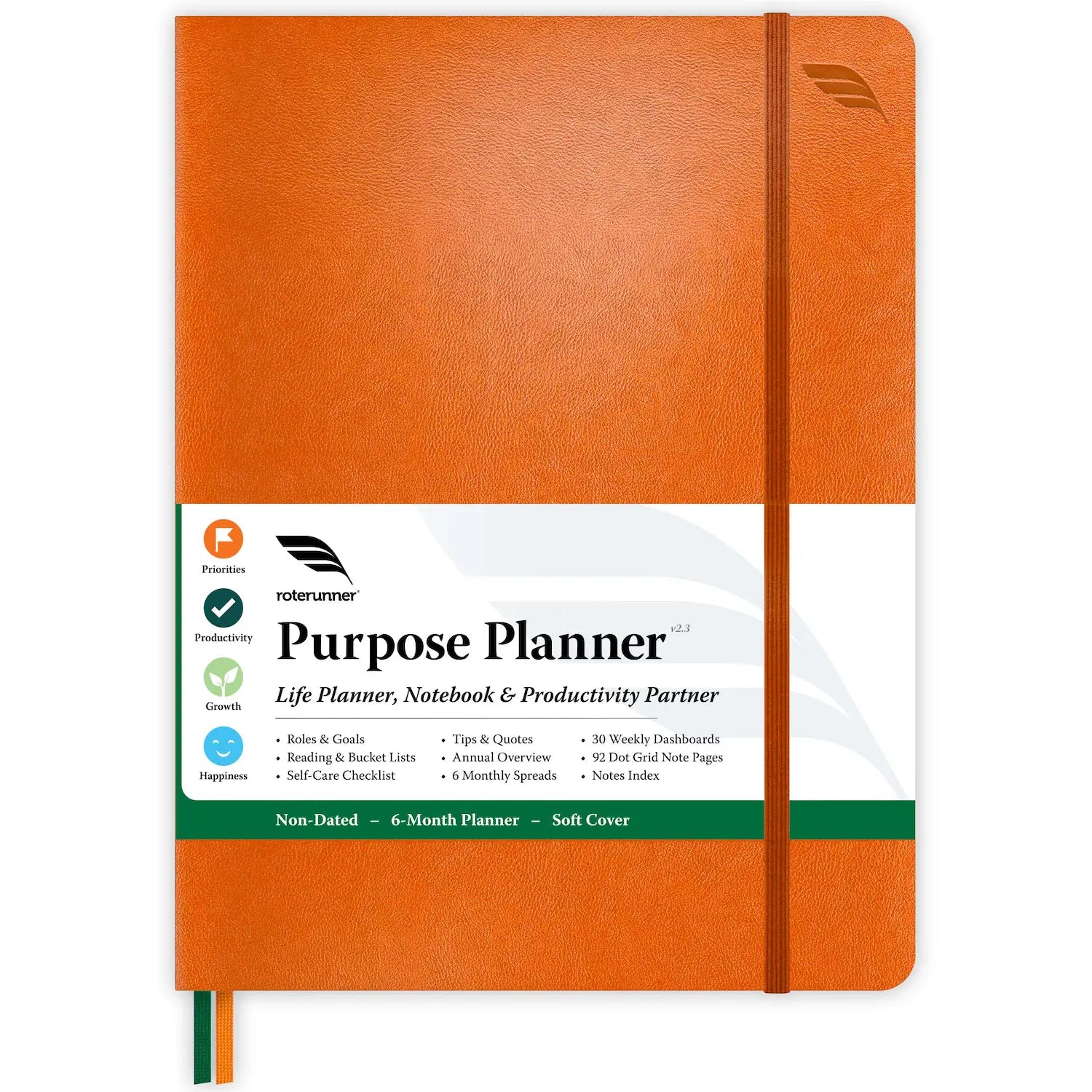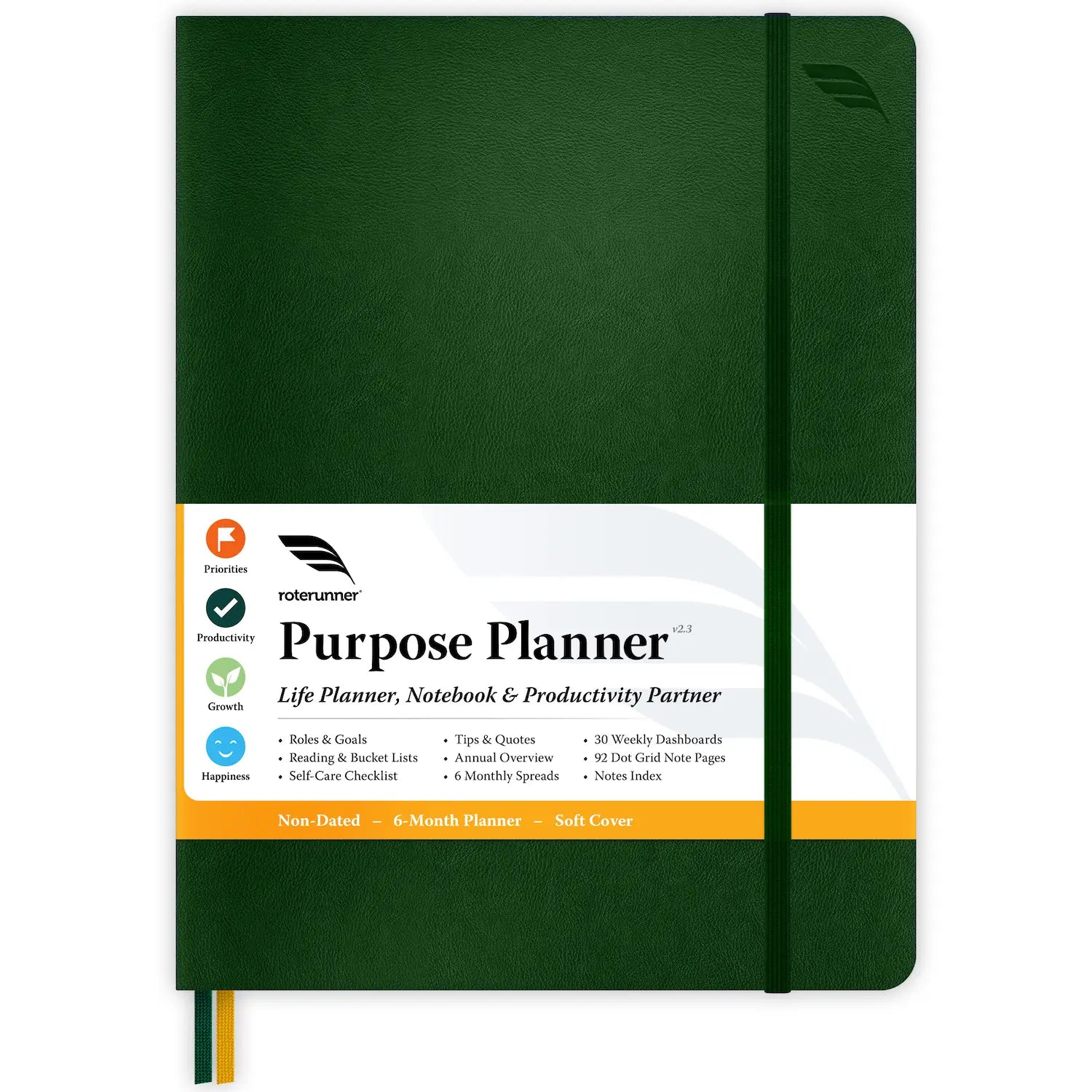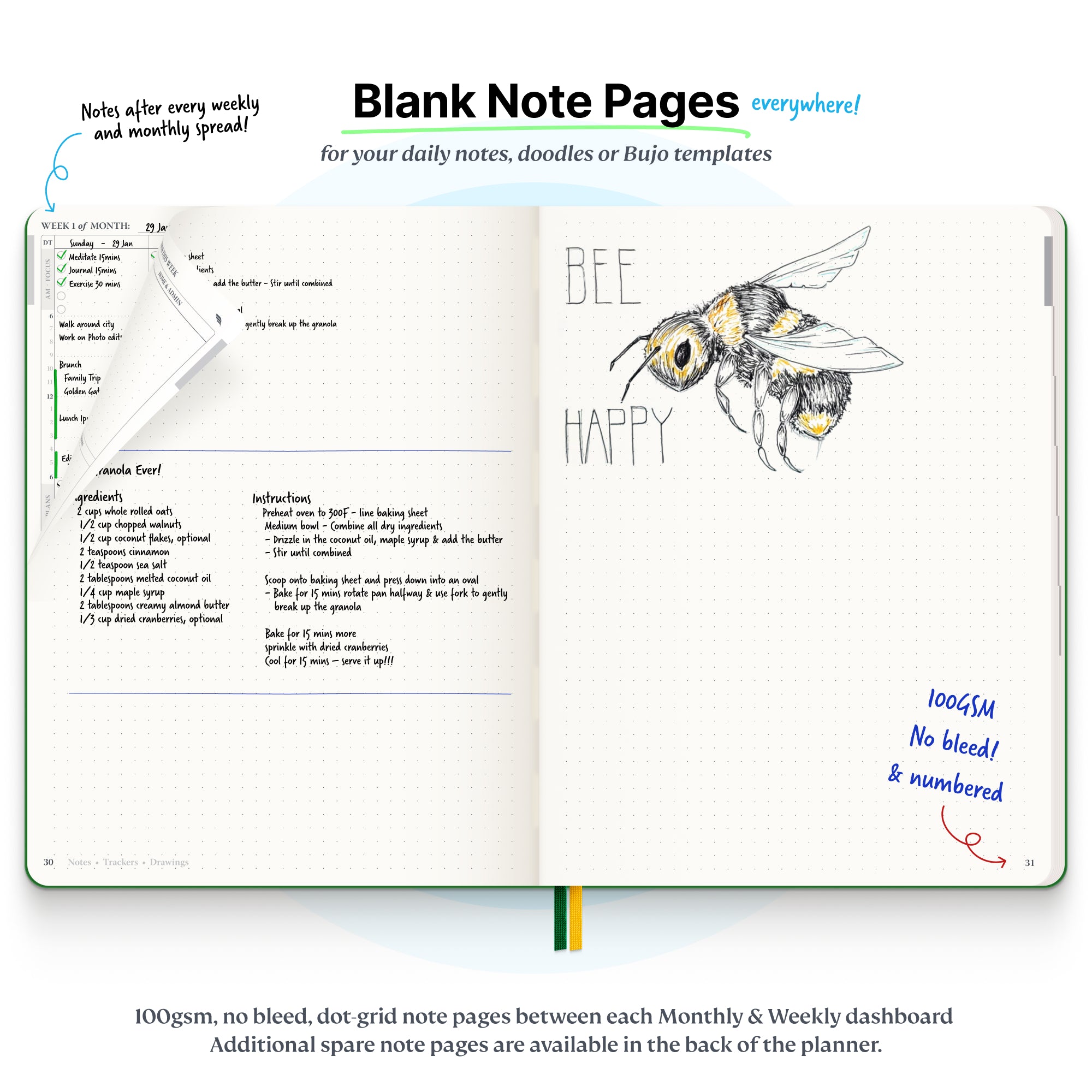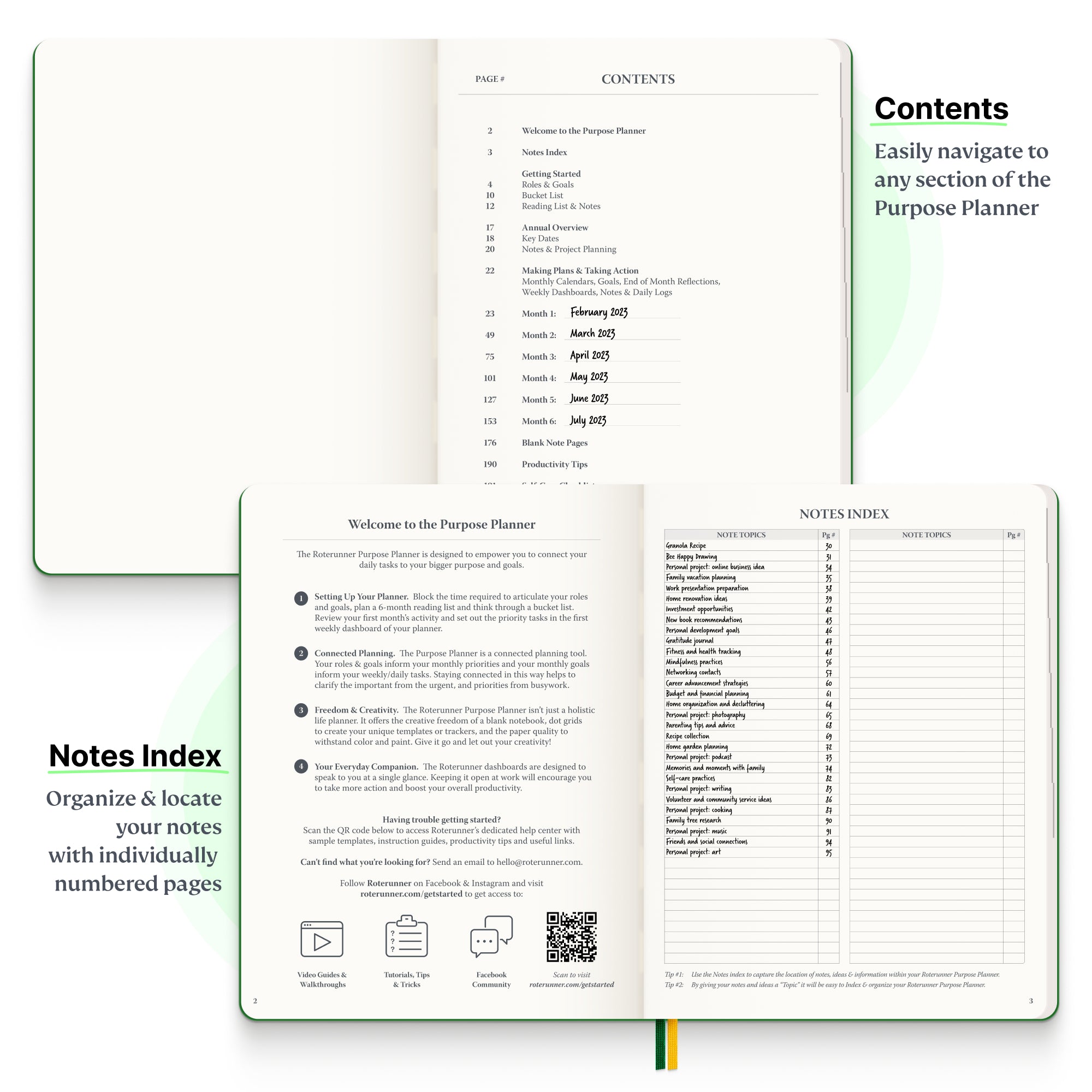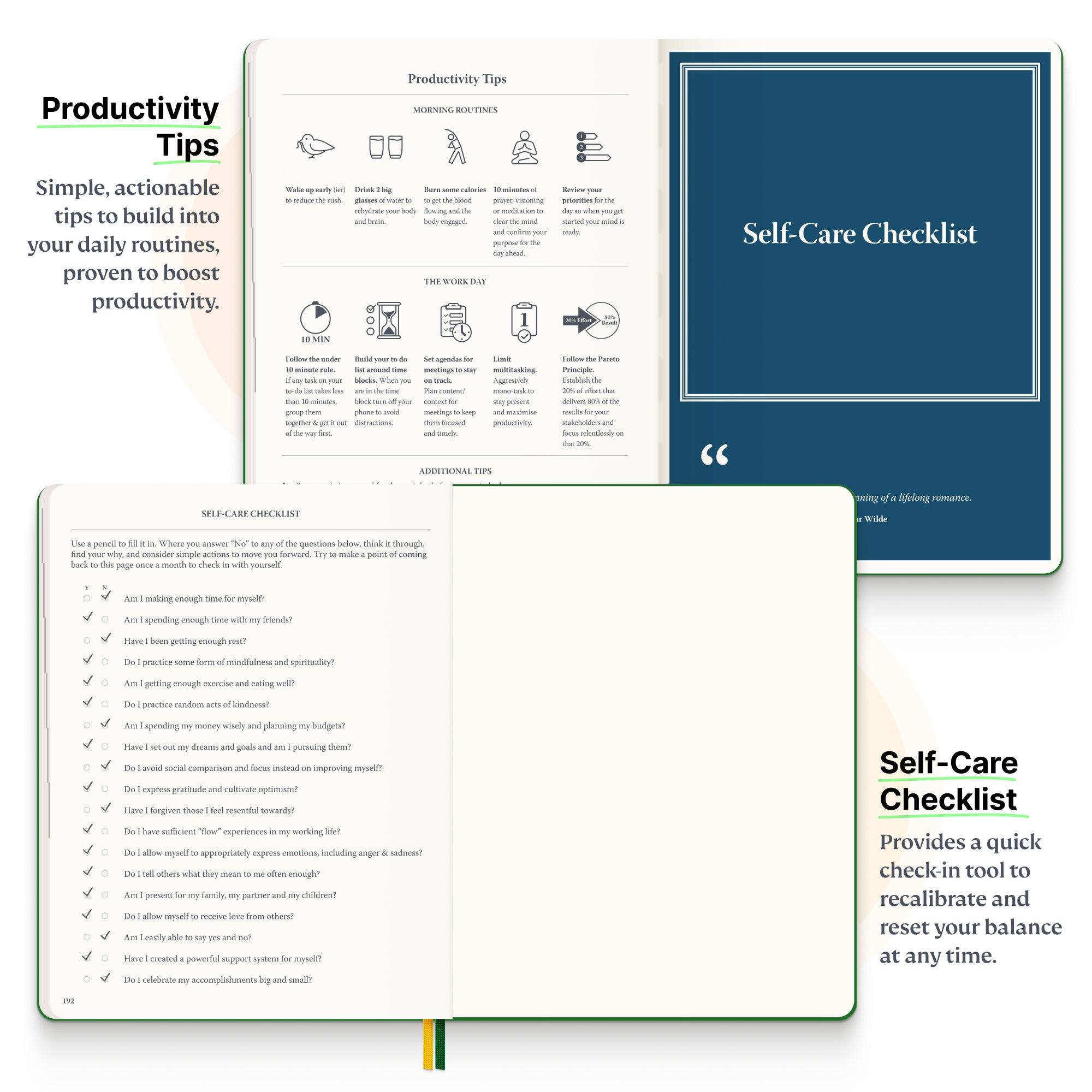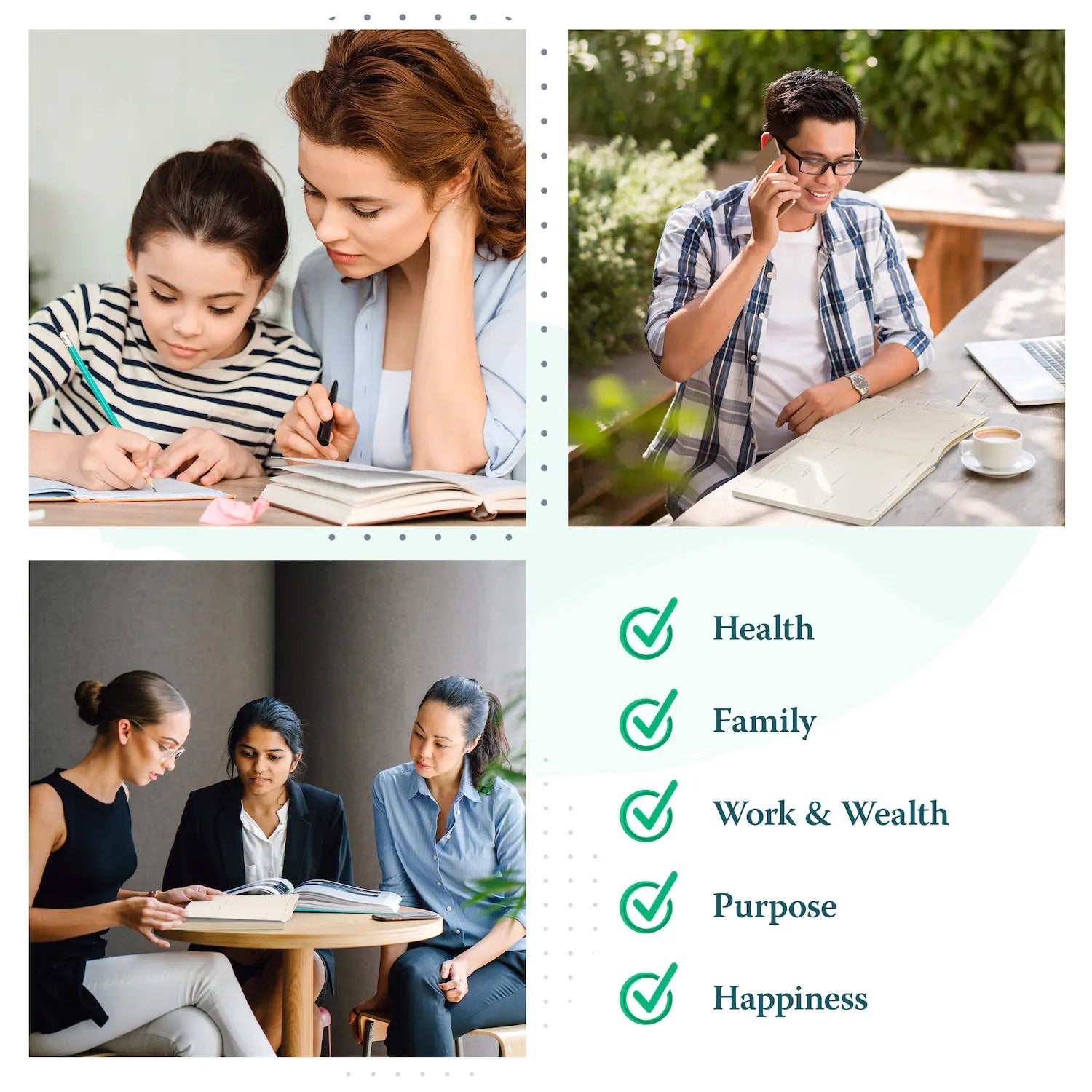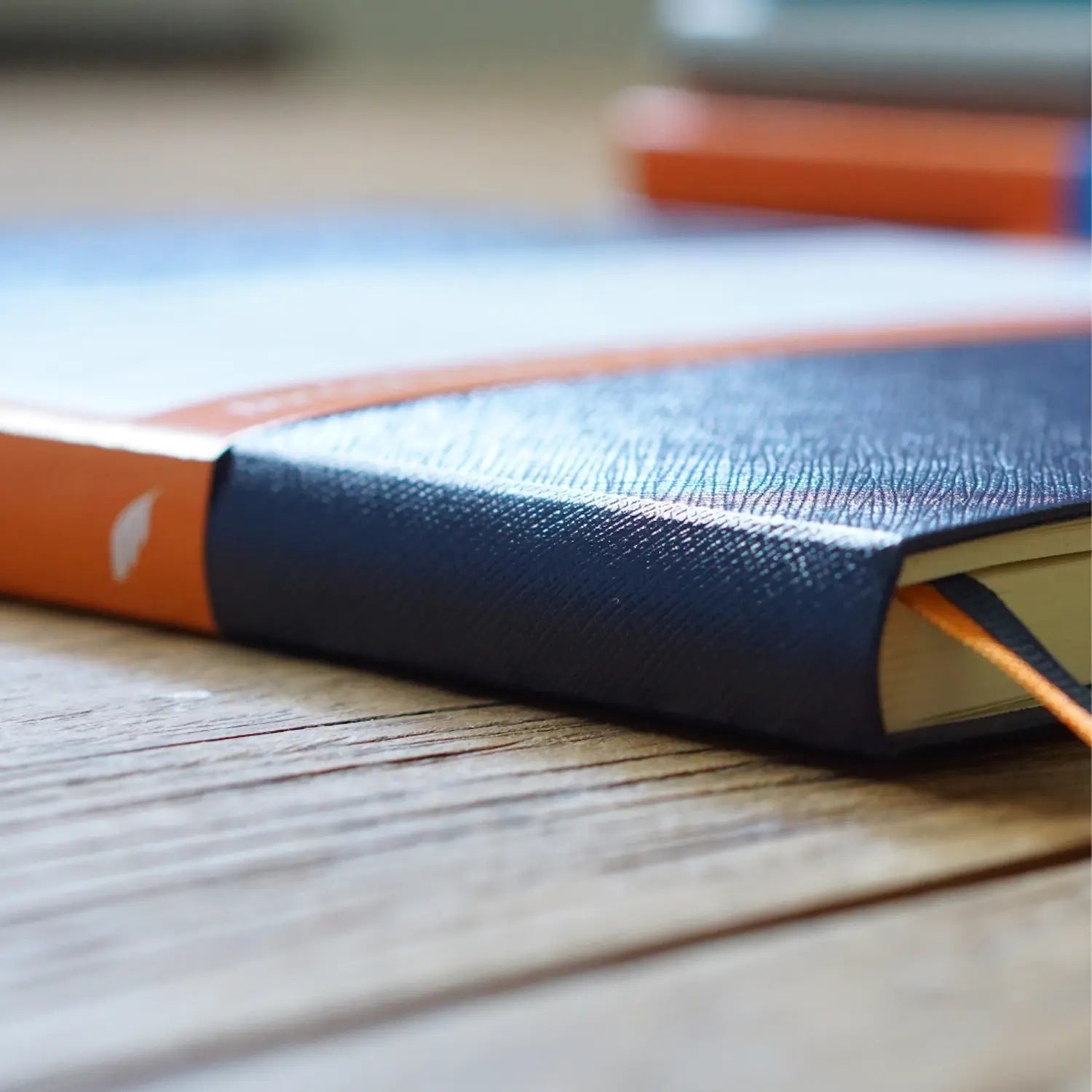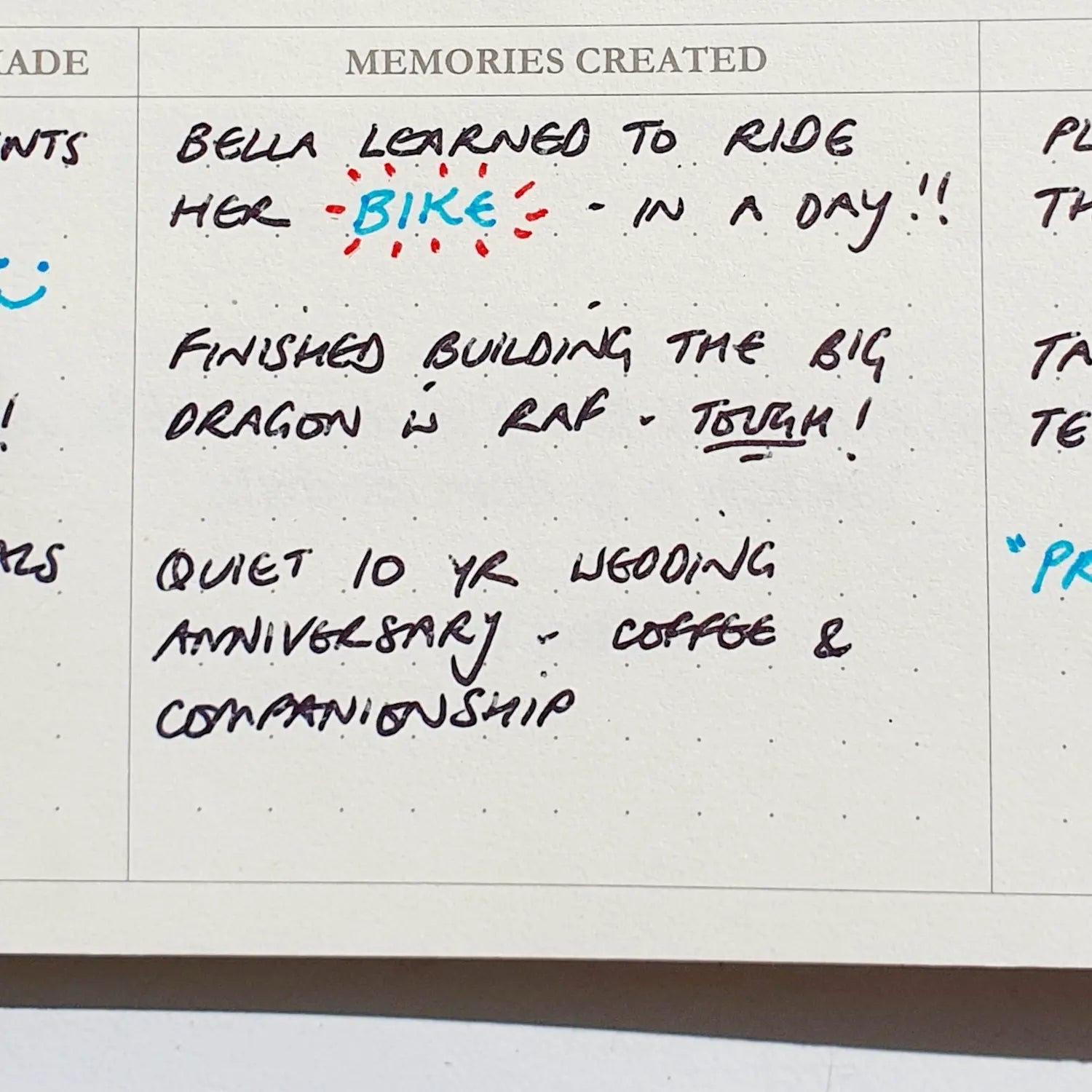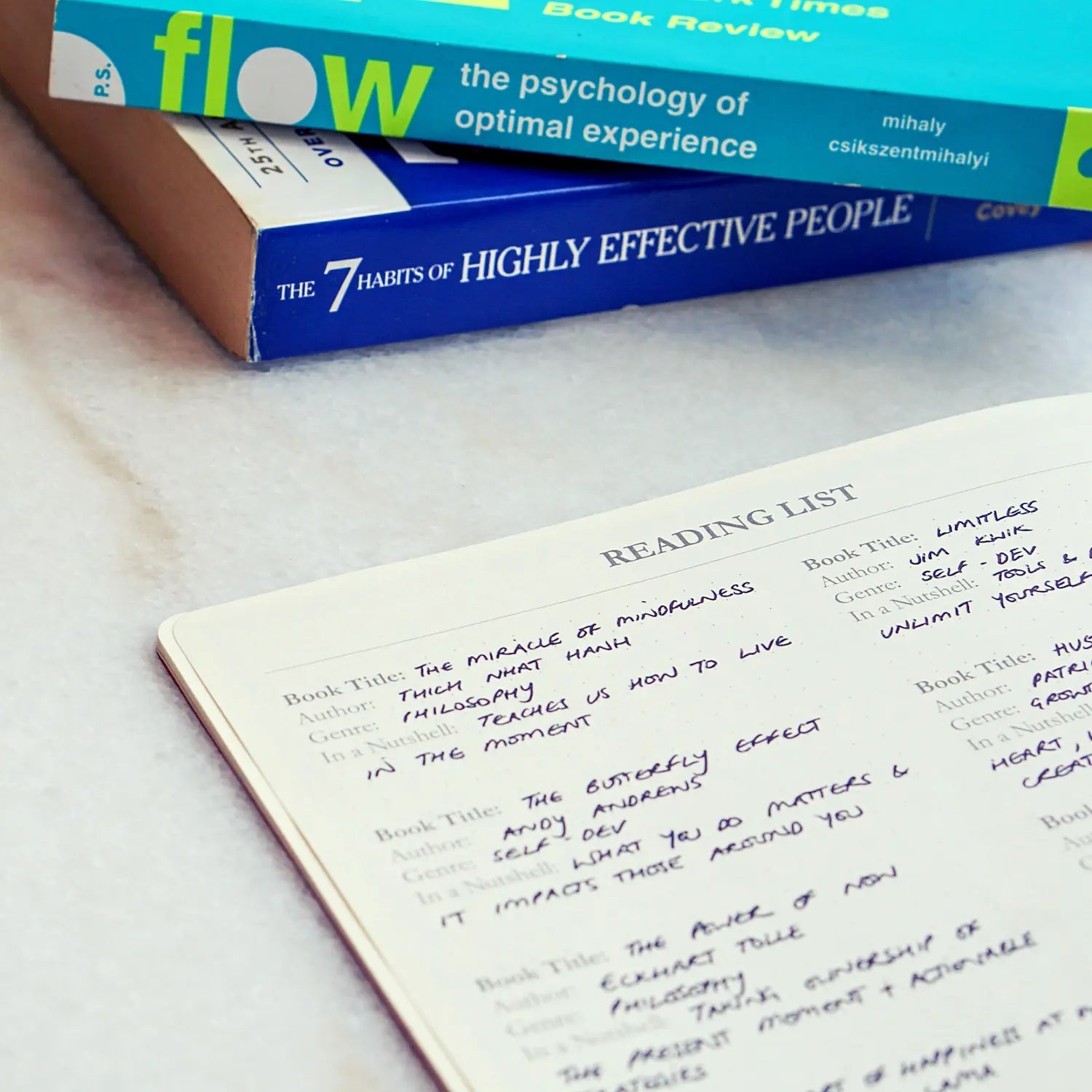 Purpose Planner
---
Use code CYBER30 at checkout to get 30% off B5 Purpose Planners!
Free Standard Shipping for all US orders.
The Roterunner Purpose Planner is a unique organization system designed to help you find your balance and live with purpose. It offers a holistic, strategic and actionable 6-month life planner, journal and numbered notebook that empowers you to reclaim control of your time and priorities. Manifesting your dream life isn't easy, but when you start to plan the little steps purposefully and track your journey, amazing things are possible!
Undated 6-month planner
Size: B5 (7.75" x 9.75")
Smyth-sewn, 180º lay-flat pages
192 numbered pages
100gsm no bleed, no smudge paper
2 ribbon bookmarks
Accordion back pocket
Hard & Softcover options
Smoothly rounded edges
Elastic band closure
Month markers to easily locate each planning block

Sections:

Contents & Notes Index
5 Roles & Goals Templates
Annual Planning Templates
Reading, Bucket & Self-Care Checklists
6 Monthly & 30 Weekly Planning Spreads
93 blank Dot-grid Note Pages
Achieve BIG goals while staying in balance
Replace overwhelm with organization & productivity
Establish positive habits and healthier routines
Develop stronger, more fulfilling relationships
Take back control of your time and rediscover purpose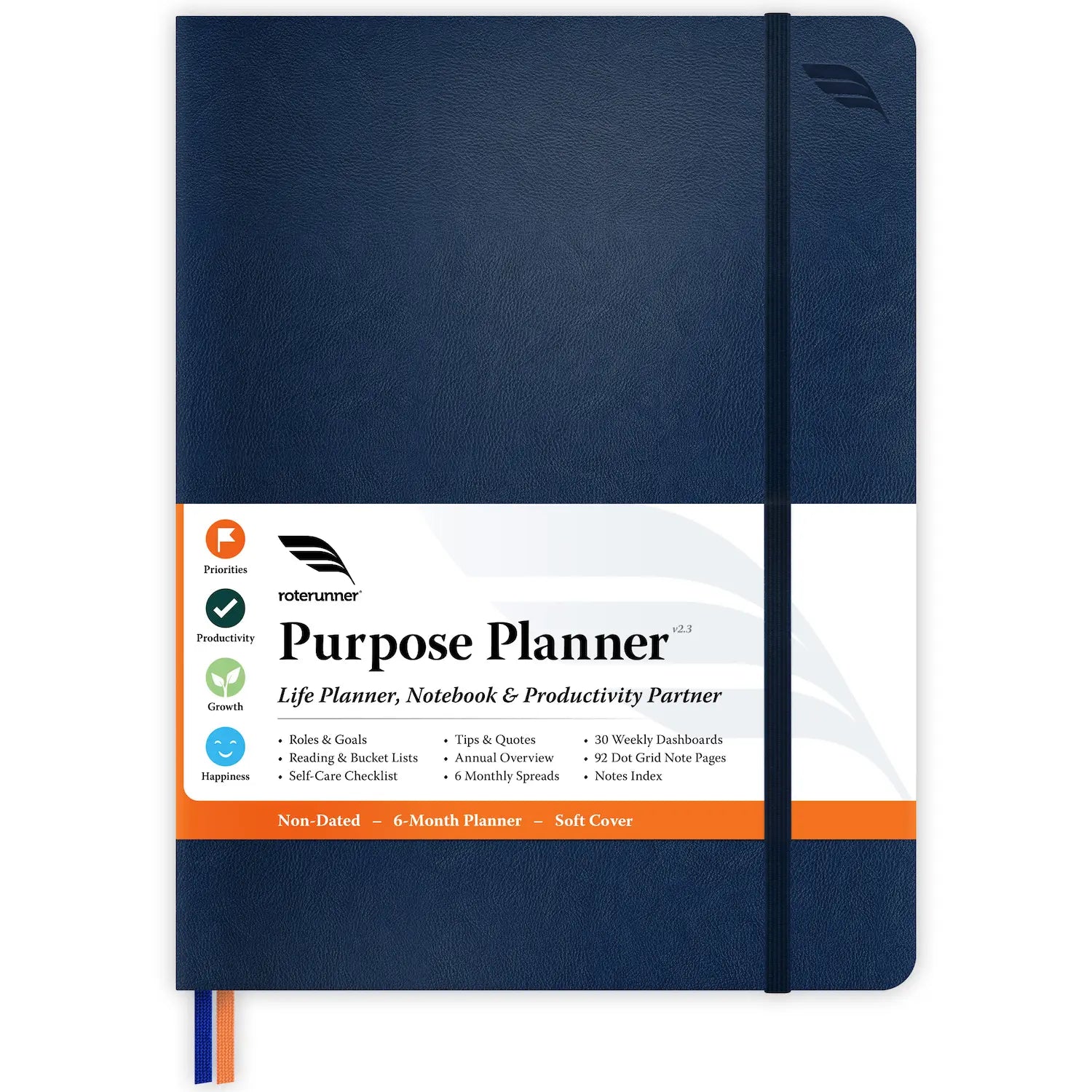 Meet the Roterunner Purpose Planner
Watch the video guide to walk through the concepts, flow, and layout of the Roterunner Purpose Planner. Intuitive templates ready to stimulate you into action and support you to take control of your time and choices. 
Take a better look at
What's Inside
Establish your purpose, not just for work but across all streams of your life. By giving each role you play a title (parent, entrepreneur, career role, mentor, etc), and setting actionable goals against each role, you anchor your priorities and set out the actions and reasons to focus on what you care about the most.
Identify your Roles
Set out the roles that define your life.
eg: Career Role, Parent, Partner, Entrepreneur, etc.
Establish Your "Why"
Establish your "whys" to clarify desire and stay committed
6 Month Goals
Set 6-month goals for each role to align personal/professional aspirations, track progress, and monitor accomplishments.
List Out Your Action Steps
Commit to regular actions that move you toward your goals & create new good habits.
Use the non-dated Annual Notes spread to capture ideas or plans for projects or events in the months ahead. The Annual Key Dates template provides a bird's eve view of special events, birthdays, public holidays, upcoming work travel or vacation plans.  
Annual Notes
Use the monthly blocks as a space to capture notes relating to projects or events later in the year.
Annual Key Dates
Build out your annual calendar with birthdays, special events and reminders.
6 monthly spreads provide a holistic view of your monthly goals, schedules and reflections. Connect your roles and goals to the projects and priorities that will define your month, pencil in your travel and meeting schedules and acknowledge your wins, learning, memories and affirmations that keep you motivated and focused.
Month Title and Dates
Fill in the month, year, days and dates in the boxes provided and choose whether to start your weeks on a Sunday or Monday.
Monthly Calendar
Set out your appointments and events for the month using the undated calendar boxes provided.
Monthly Goals & Priority Actions
Take control of the big picture by setting holistic monthly projects and priorities that align with your Roles & Goals.
End of Month Reflection Area
Use the self-reflection sections to be more conscious of your successes, challenges, support, memories, insights and strengths.
Offering compartmentalized spaces for tasks and priorities, appointments and schedules, food and fitness, daily habit and sleep tracking, shopping and "not-to-do" lists, the 30 weekly dashboards form the beating heart of the Purpose Planner. Planning your week in this manner does away with catch-all daily to-do lists and gives you so much more scope and scale to visualize what to focus on.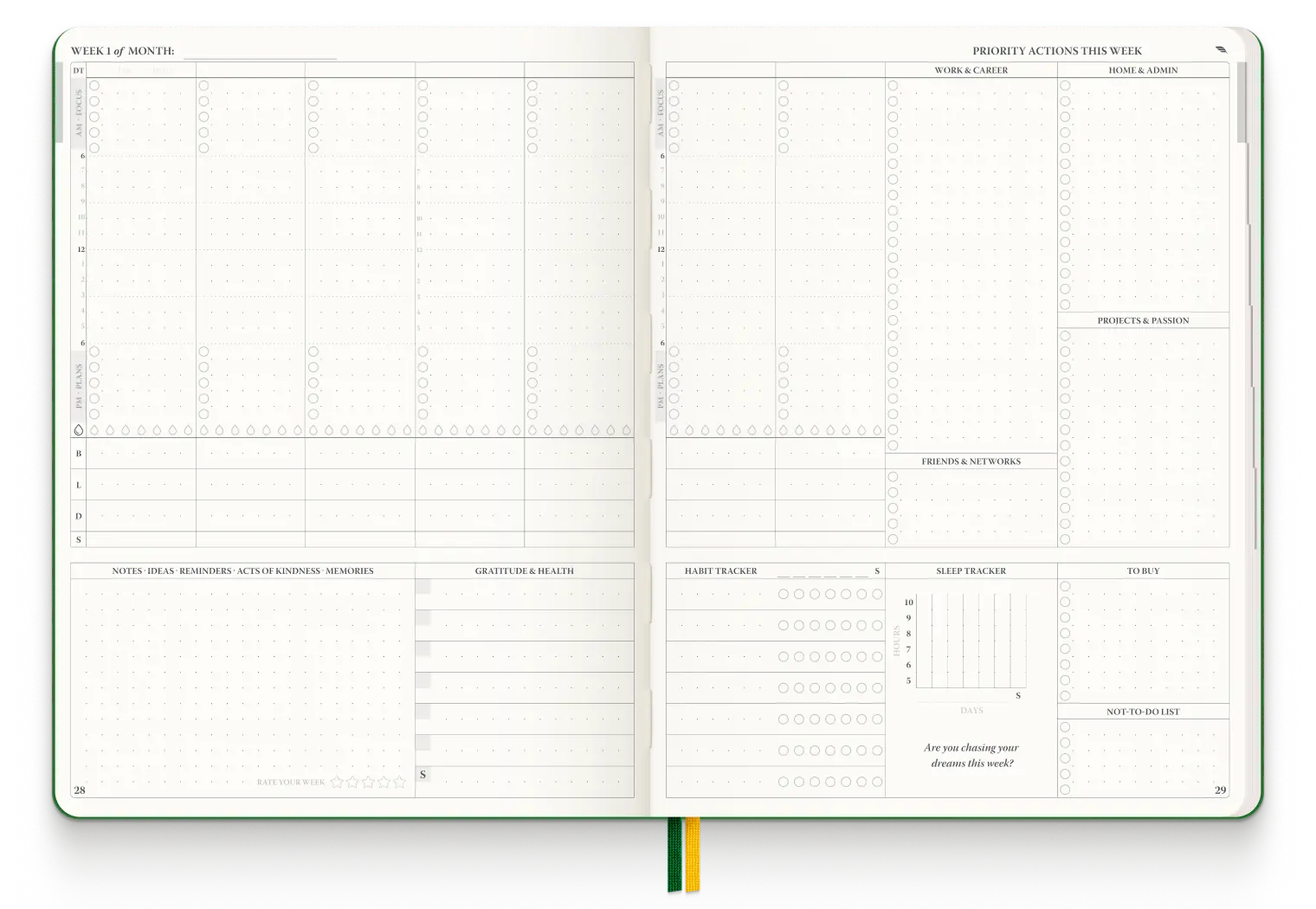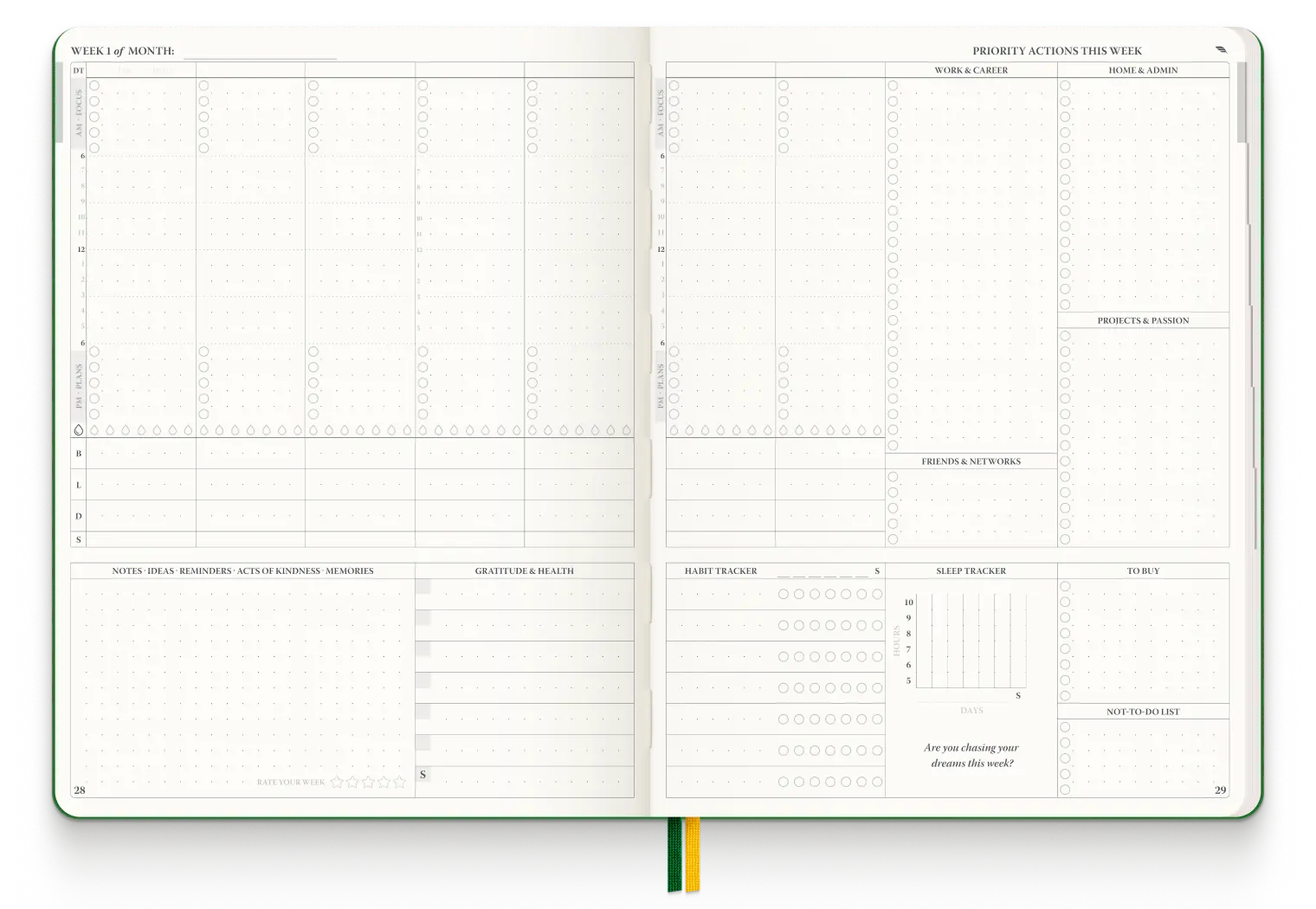 Date your Week
Fill in the month, days and dates in the boxes provided and choose whether to start your week on a Sunday or Monday.
Daily Schedule
Plan your days by scheduling your morning routine, daily focus, evening plans, meetings, and other activities in the daily columns provided.
Daily Water & Meal Tracker
Keep track of your daily water intake, meals including breakfast, lunch, and dinner, as well as snacks or steps.
Priority Actions for the Week
Plan and prioritize your weekly tasks across priority areas of your life. Track your progress by filling in the blank circles, and migrate any unfinished tasks to the following week to help ensure you stay on top of your goals.
Quick Notes
Use this section to capture any notes, reminders, or doodles, and take a moment to rate your week with the 5 stars included.
Gratitude & Health
Set health goals for the week or practice daily gratitude journaling by listing one thing you are thankful for daily.
Habit Tracker
Create a list of 7 habits to incorporate into your routine and track your progress daily.
Sleep Tracker
Develop a greater awareness of your sleep patterns visually by tracking and analyzing them.
'To Buy' List
Use the 'To Buy' section to keep track of what you need to buy for the week and stay organized while shopping.
'Not-to-do' List
A 'Not-to-do' list can help you grow by identifying tasks or habits that may be holding you back and allowing you to focus on what's important.
Each weekly spread is followed up with two numbered blank dot grid pages to capture your notes, drawings or writing for that week. Offering a blend of both structured planning templates and free form note pages, the Purpose Planner also includes an additional 15 blank pages at the back of the notebook to supplement the 78 note pages within the planning sections.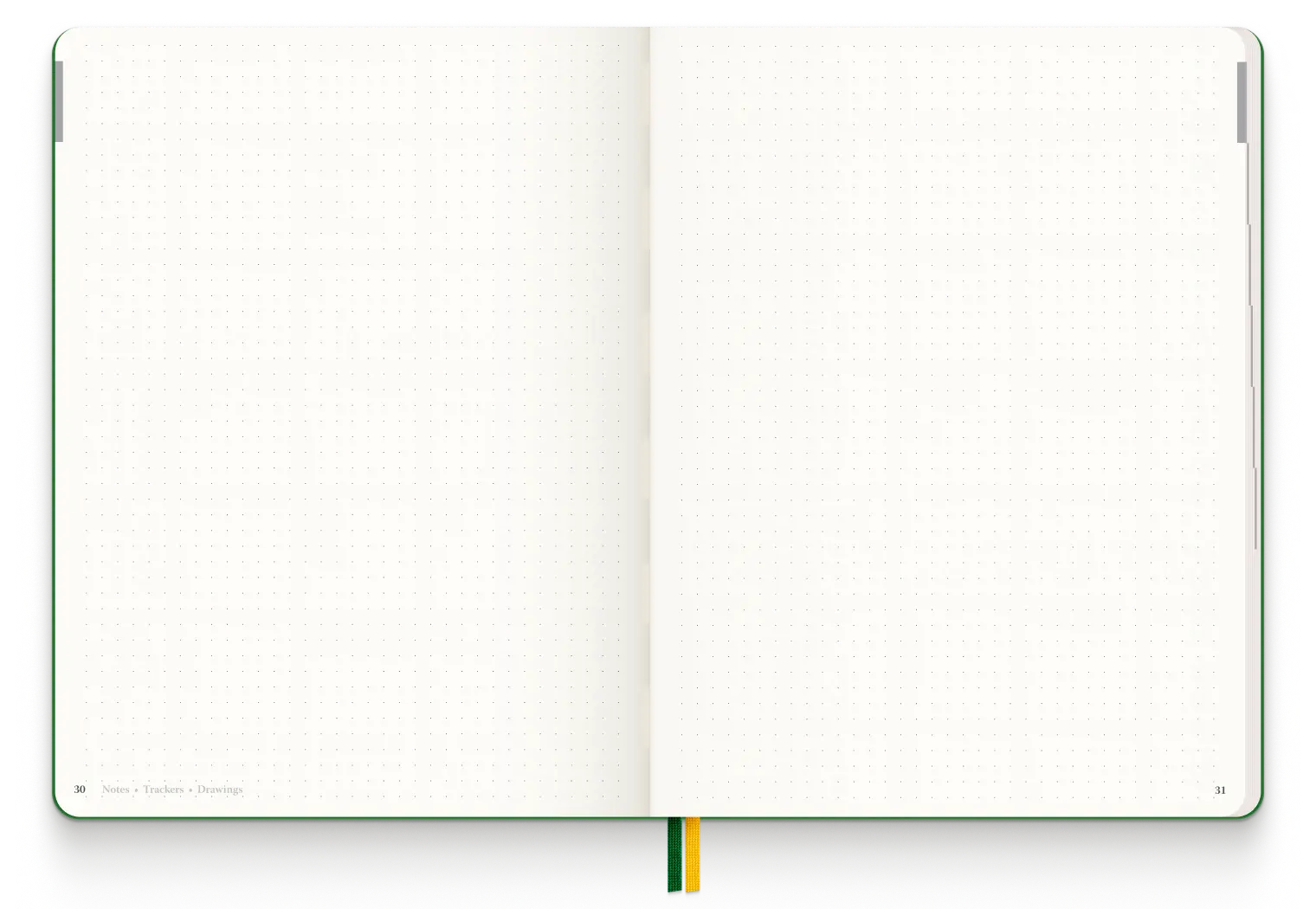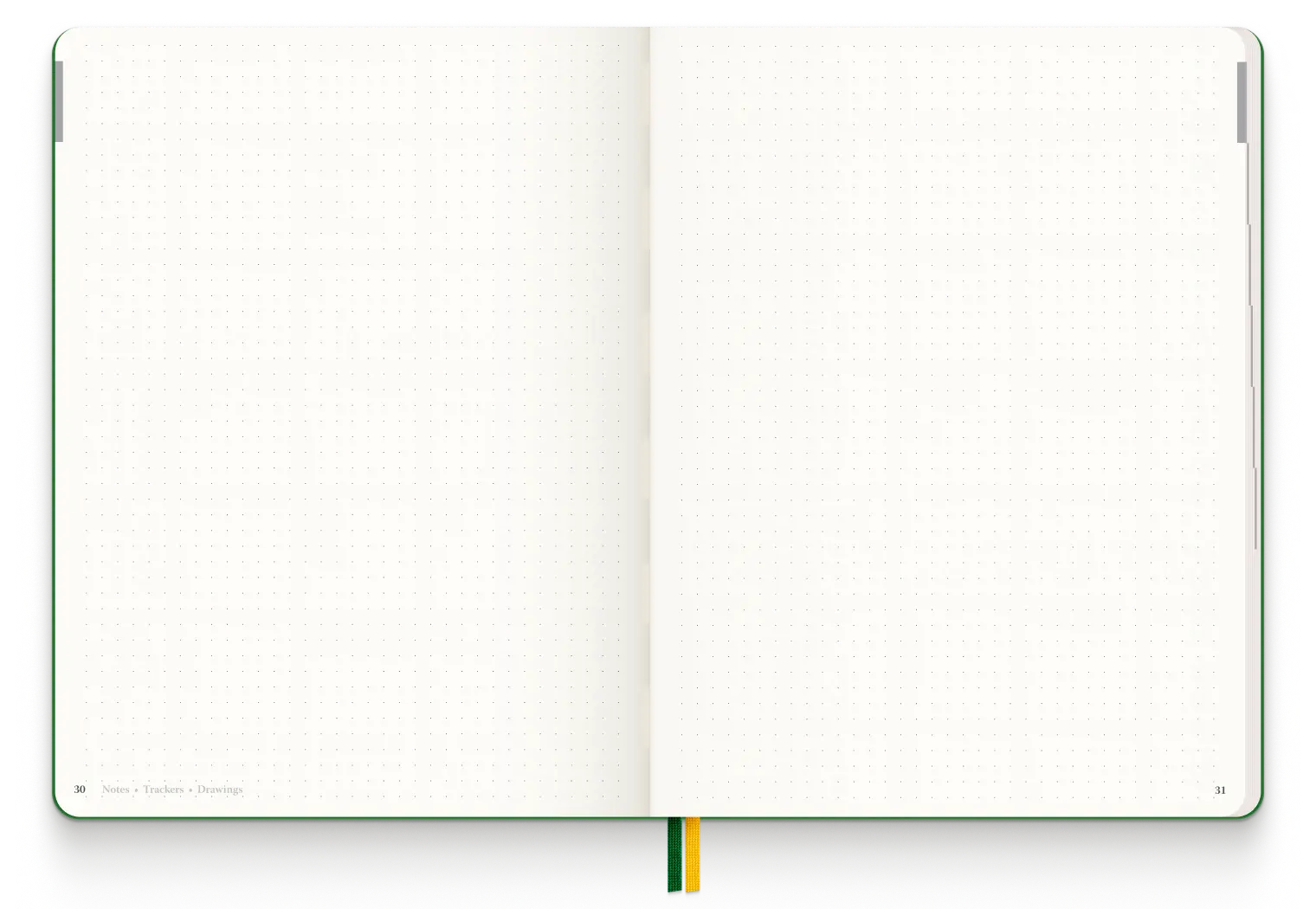 Notes to Support Your Planning
Use the versatile dot grid note pages to create new tables and trackers, take notes to support your weekly or monthly planning or sketch up your art. Be as productive or creative as needed.
Numbered Pages
Numbered note pages tie back to the Notes Index so you are always in control of your notebook.
Use the templates provided to set out your reading and bucket list activities in advance. By doing so, you are much more likely to prepare effectively and block the time needed to make it happen.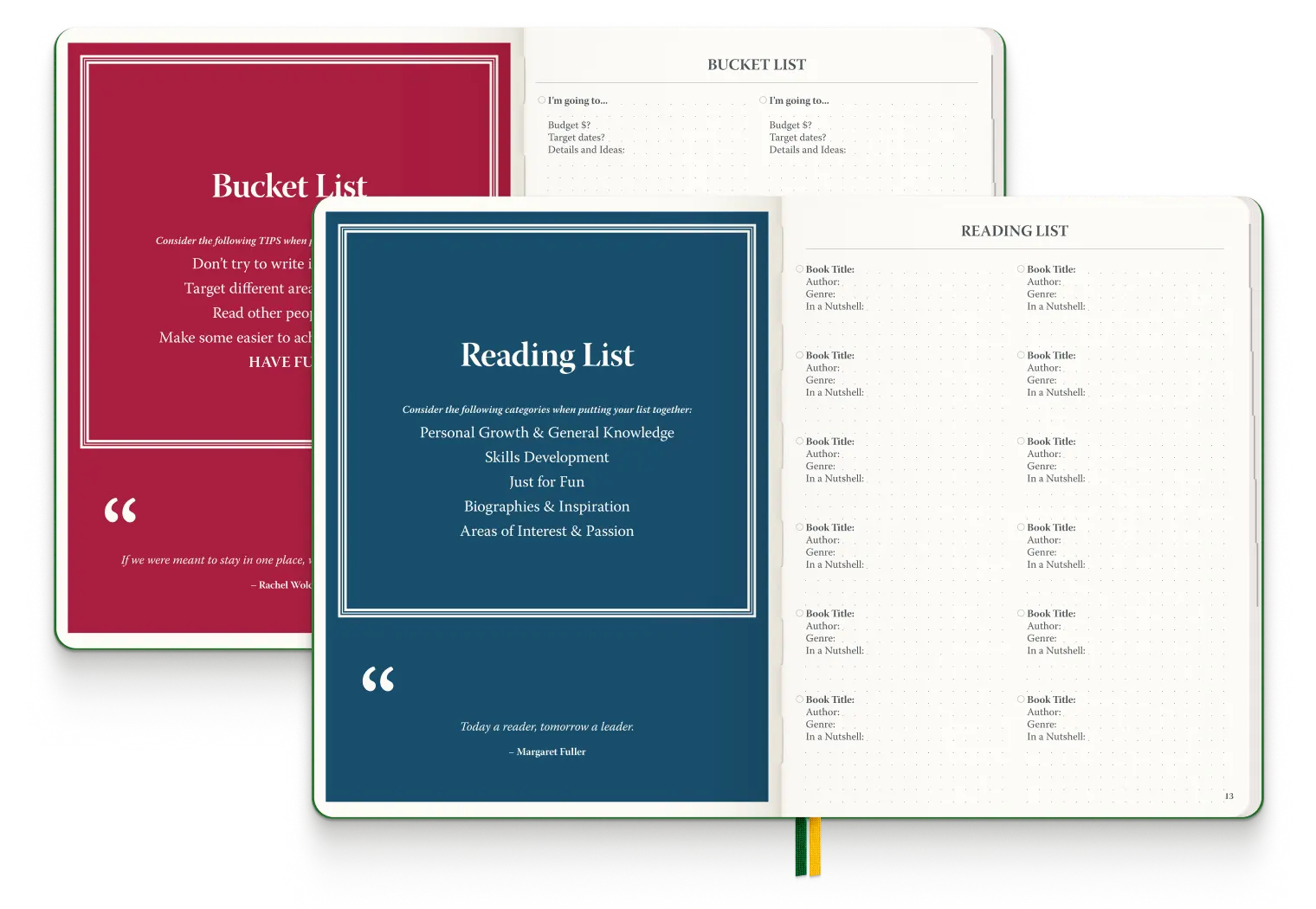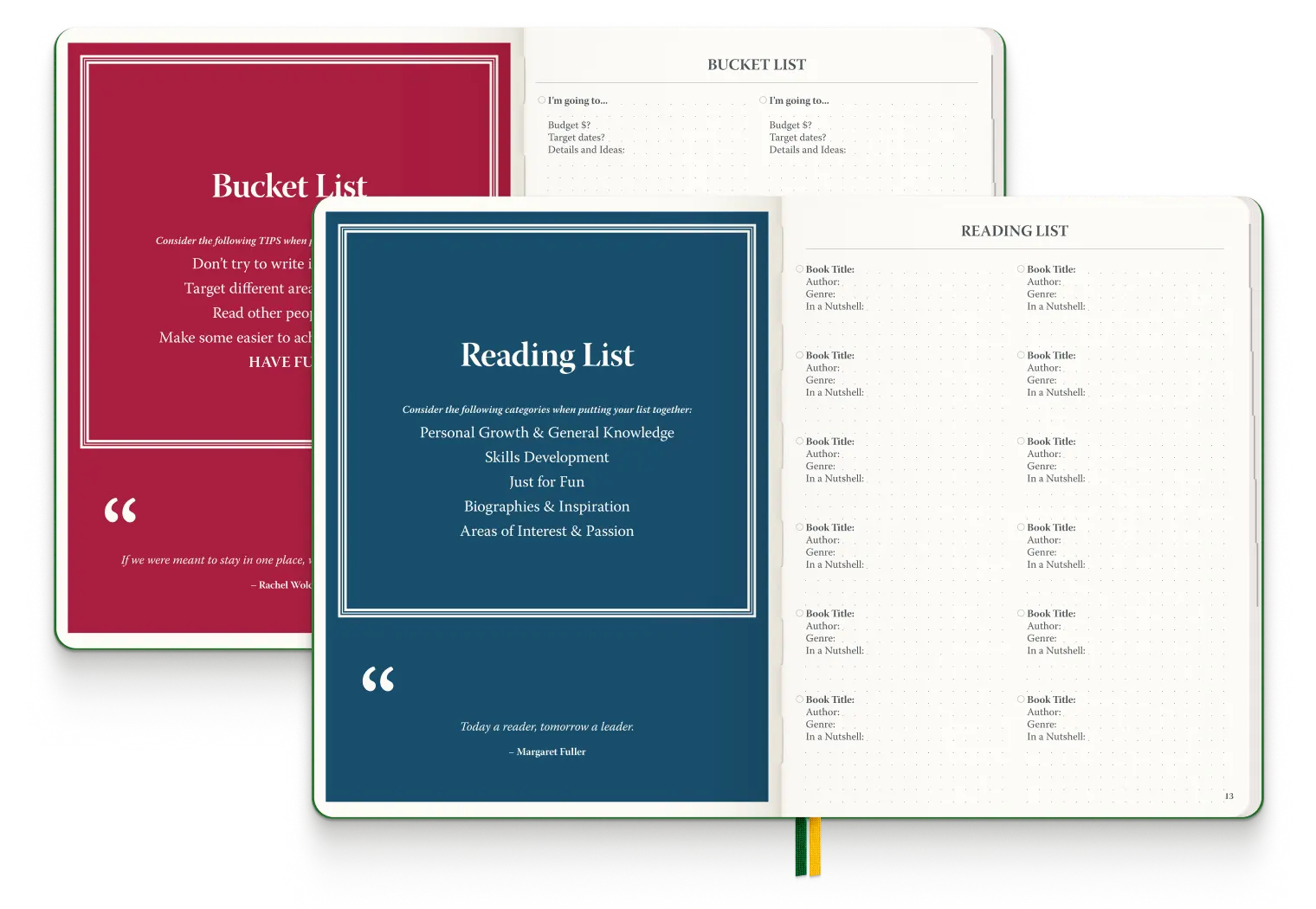 Bucket List
Create a bucket list for the next 6 months with personal goals and things you want to achieve to enjoy life outside work.
Reading List
Build your reading habits and achieve your personal growth goals by planning your reading in advance and scheduling it into your weeks.
Ellen W. from The Command Purpose Foundation
"We are so grateful for this awesome tool to help our participants align more closely to their values."
"I work at The Command Purpose Foundation, a 501-C3 non-profit that helps veteran women rediscover purpose after serving in the military. The purpose planner has enabled us to better support our participants as they apply for jobs, relocate, and navigate life's challenges more purposefully. We are so grateful for this awesome tool to help our participants align more closely to their values and give them the ability to chart out the next six months. This is by far the best holistic planner in the market!"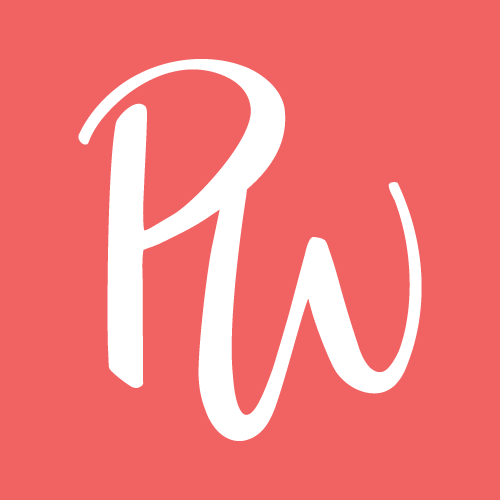 Courtney Campbell from PureWow.com
"The result is a handy planning tool that can better help you evaluate what's most important to you."
"Filled with motivational quotes, bucket lists, productivity tips and more, this planner goes above and beyond goal setting and scheduling. The Roterunner has a wellness twist, complete with space to enter in morning and night routines, habit trackers and self-care checklists. The result is a planning tool that helps you evaluate what's most important to you as a human being—and how you should best spend your time."
Dominique Pariso from NYMag.com
"It goes beyond being a planner, and is really a clarifying tool for understanding how you want to invest your time."
Author and time-management coach Elizabeth Grace Saunders told us about this planner that combines the scheduling elements you'd want in a regular planner with the goal-setting elements you might look for in a journal. In addition to its gridded weekly (and month and year at-a-glance) pages, this has space for you to write down both your roles and goals as a partner, employee, and friend. It even invites you to track your daily habits according to different priorities, allowing users to tackle their goals in a more holistic way.
What makes the Purpose Planner different?

The structure of the Purpose Planner centres around connectivity and holistic planning. Where most planners simply provide space for schedules and activity, the Purpose Planner goes several layers deeper, guiding you to set compartmentalised goals for the next 6 months and then connecting and tracking them across your life, to your learning, rewards, monthly projects and weekly tasks.

It is also laid out to flow the way we work with each month a self-contained section starting with the monthly spread, followed by 5 weekly dashboards separated by blank note pages.

A key feature behind the design is that you shouldn't have to carry around a planner and a notebook. The Purpose Planner doubles up as both with 93 blank numbered, dot-grid note pages.
What is the size of the notebook?

The notebook is B5 (19x25cm and about 1cm thick). The size is in between A4 and A5.

We chose this size as it provides sufficient space to write without being too big and bulky. The soft cover makes it a little lighter, more flexible and more compact while the hardcover is for those that prefer a sturdier choice. 
What is the best way to optimize the weekly dashboard?

The weekly planning spread is at the heart of the Purpose Planner and is designed to be a 1-stop strategy dashboard for the week ahead. We recommend setting out your priorities, daily habits and schedules for the week on a Sunday evening or Monday morning. What this does is give you clarity about your priorities and focuses you on the tasks, routines and relationships that move the needle in your life.

You will find yourself minimising "busy-work" while taking care of those annoying admin items that you typically procrastinate. The weekly dashboard also speaks to you. The sections that are left blank make you aware of the gaps in your life and it's up to you to fill them in.
What forms of payment do you accept?

We accept PayPal, Visa, MasterCard, American Express, Apple Pay, Shop Pay, and Google Pay.
All orders are shipped from our warehouses located across the US.
Do you ship internationally?

Yes we do, All international orders are shipped from our warehouses located across the US. 

International Shipping: For international shipments a flat shipping rate will be determined by destination country and dimensional weight estimates. Overseas deliveries can take anywhere from 7-16 days.

Once you have added your items to your cart, enter your shipping address for an estimated shipping cost. Please note, it is your responsibility to pay all tariffs, duties, and taxes.

We currently do not offer express options for international orders.
How long will it take to get my order?

Domestic: We offer free Standard domestic (US) shipping with orders typically taking between 5-7 business days to arrive. Expedited shipments have a $5 charge and will arrive in 3 business days. Delivery details will be provided in your confirmation email.

International: For international shipments a flat shipping rate will be determined by destination country and dimensional weight estimates. Overseas deliveries can take anywhere from 7-16 days.

Once you have added your items to your cart, enter your shipping address for an estimated shipping cost.

Please note, it is your responsibility to pay all tariffs, duties, and taxes.

We currently do not offer express options for international orders.
Reviews
Checkout what others have to say about this product.
This product is rated 4.9 of 5.0 stars.
It has received 238 reviews.
Total 5 star reviews: 216
Total 4 star reviews: 20
Total 3 star reviews: 1
Total 2 star reviews: 1
Total 1 star reviews: 0
99%
would recommend this product
Customer-uploaded media carousel. Press left and right arrows to navigate. Press space or enter to open more details.
Slide 1 selected
Best planner I've ever used!

It thought of everything - to buy, to do (home and work), bucket lists, books read, etc.

Roterunner

1 week ago

Dear Jordan,

We are so delighted to hear that you find the Purpose Planner to be the best for you! We hope that you continue to find it useful in organizing various tasks in your daily life. Thank you for your support!

Stephanie T.

Verified Buyer

Great Option for Customization

Love how easy it is to customize to my liking.

Roterunner

1 week ago

Dear Stephanie,

Thank you for sharing your positive experience with the Purpose Planner! We're delighted to hear that you find it easy to customize based on your preferences. We hope you continue to find the planner helpful on your journey ahead. Thank you for your support!

2nd Purchase

Have you tried purpose planner? This is the best planner for planning goals and setting your daily and monthly task. This is my second purchase, and it is my all-time go to compared to other planners I have used in the past. I love the weight of the paper and the canary-colored paper which makes it easy on the eyes. Great buy and very easy to use for those of us who still like a hard copy over using digital format planning..

Roterunner

3 weeks ago

Dear Tracey,

We're thrilled to hear that the Purpose Planner has become your go-to for goal-setting and daily tasks. Your feedback is invaluable, and we appreciate your continued support as a repeat customer. If you have any suggestions or questions, please feel free to reach out. Thank you for choosing Roterunner!

KD

Daily Inspiration and Organization

This awesome planner goes 6 months at a time, has tons of space for free-thinking, mindful lists with thought-provoking prompts, and a wonderful layout. It easily invites inspiration and organization. Recommended by a friend, this planner is a game-changer. I used to be a Happy Planner and later, a Passion Planner, but I'm now a Purpose Planner and feel like I've found what's been missing. Roterunner Purpose Planner is perfect for anyone seeking a quality product with nudges to do more and plenty of room for personalization.

Roterunner

3 weeks ago

Dear Kate,

Thank you so much for your fantastic review! We're delighted to hear that our Roterunner Purpose Planner has made such a positive impact on your life. We hope that the Purpose Planner continues to help you enhance your productivity while enabling you to personalize the way you organize as well. Thank you again for choosing the Roterunner Purpose Planner.

3 years and running | Two Thumbs Up!

I've been using these purpose planners for about 3 years now. They help me stay on committed to my daily tasks, my exercise goals and overall feel balanced. It's nice to be able to reevaluate my goals every six months and then set relevant intermediate goals.

Roterunner

3 weeks ago

Dear Joe,

Thank you very much for this heartwarming review! We're thrilled to have had you as a valued customer for the last three years. Your support means the world to us, and we look forward to serving you for many more years to come.
Reviews Loaded
Reviews Added